The last British Open Speedgolf Pairs Championships
was hosted at Sweetwoods Park Golf Club
on 8 June 2019
The British Speedgolf Pairs Championships took place on Saturday 8 June, at the superb Sweetwoods Park Golf club, a parkland course bordering East Sussex, Kent and West Sussex.
​Amateur golfer George Boxall and West Kent PGA Pro Tom Roberts narrowly defended their title; they finished their 18 hole round on this hilly course in just 49 minutes and 28 seconds shooting 82, giving the pair a Speedgolf Score of 131:28. Runners up were another Pro/Am partnership of Chris Benians and Steve Jeffs who shot 1 stroke more and were just 19 seconds slower, giving them a Speedgolf score of 133:17. All the volunteer scorers who play traditional golf at Sweetwoods Park found this pace and time totally unbelievable, as typically their rounds would be 4 -5 hours.
Get Inspired! – Check out this video from the event by vlogger Lloydi Golf, it's a fun look at Speedgolf Pairs from a complete novice! 
The Inaugural 2018 British Speedgolf Pairs Championship
George Boxall and Tom Roberts win Inaugural British Speedgolf Pairs Championship!
In very warm, humid conditions George and Tom completed their 18 holes in just over 41 minutes! Their Speedgolf score was 122:06. Not far behind was Chris and Jamie who took the best golf stroke score of the day shooting 79 in just shy of 48 minutes. The fast course played havoc with the short game but all who competed should feel very proud of their achievements.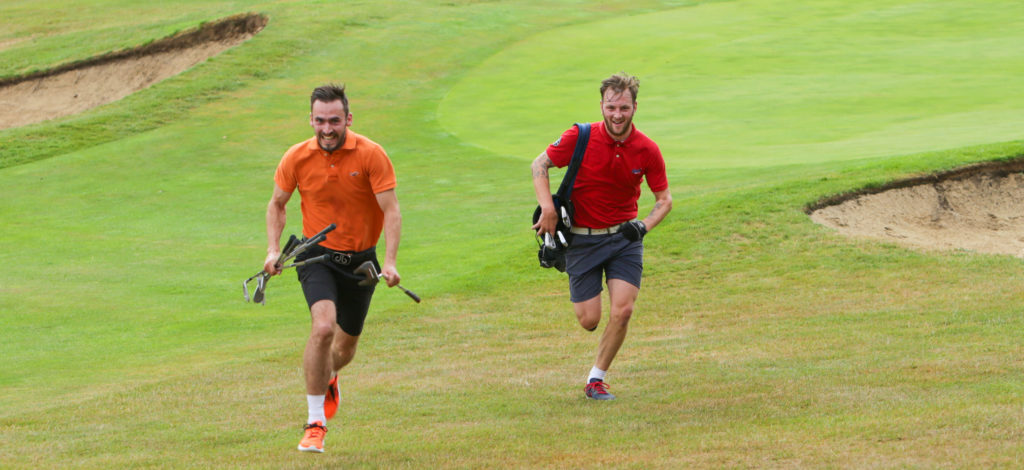 Runners up were Chris Benians and Jamie Fowler