2019 British Open Speedgolf Pairs Championships
Sweetwoods Park Golf Club
8 June 2019
The British Speedgolf Pairs Championships took place on Saturday 8 June, at the superb Sweetwoods Park Golf club, a parkland course bordering East Sussex, Kent and West Sussex.
Buggies or trolleys are not used by players in Speedgolf tournaments, but scorers followed each pair in a buggy! 
Speedgolf Pairs adds a social dimension to the sport and with the foursome format, team work is essential. Read our Blog on more from this year's championship
Get Inspired! – Check out our short promotional video shot at the inaugural 2018 event, plus a short photo montage. 
More on the Inaugural 2018 British Speedgolf Pairs Championship
George Boxall and Tom Roberts win Inaugural British Speedgolf Pairs Championship!
In very warm, humid conditions George and Tom completed their 18 holes in just over 41 minutes! Their Speedgolf score was 122:06. Not far behind was Chris and Jamie who took the best golf stroke score of the day shooting 79 in just shy of 48 minutes. The fast course played havoc with the short game but all who competed should feel very proud of their achievements.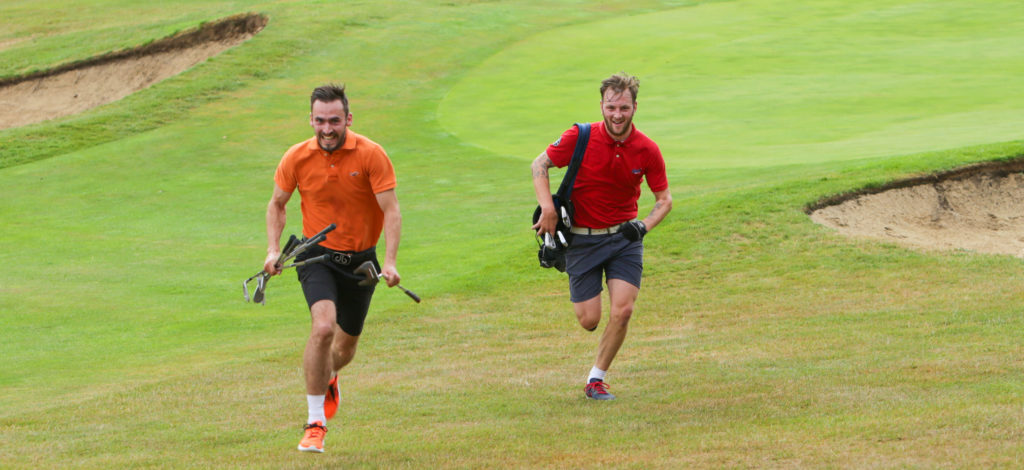 Runners up were Chris Benians and Jamie Fowler