Accelerate your game
Speedgolf is FAST, promotes FITNESS but most of all is FUN!
What is Speedgolf?
GOLF REIMAGINED!
Speedgolf is a fun, fast, and fitness-oriented alternative to traditional golf.
It's about one sport that unites two of the largest lifestyle communities in the world, Golf and Running! It also satisfies a myriad of today's modern challenges to a healthy and active lifestyle.
Speedgolf is essentially a faster more athletic format of golf. Speedgolfers who play competitively, do jog between shots but even those at the very top of the sport rarely sprint; Speedgolfers  think about Pace rather than Speed – finding an optimum pace for their fitness and endurance whilst maintaining their golf shot accuracy.
A Speedgolf Score is a combination of Golf Strokes plus the Time to complete the round.  Whether taking a brisk walk, power walk or progressing to a jog, some or all of the time, Speedgolfers should also aim to save time by eliminating practice swings and other time consuming rituals that lead many to over-think their game. In doing so, contrary to what one might expect, many Speedgolfers actually find that their golf game improves!
For a full round at 'speed' Speedgolfers need a clear course, which is the main reason that those who practice regularly play at 1st tee. Aside from fewer clubs and suitable attire there are very few rule changes and NOTHING a club has to put in place in terms of equipment. If you are interested to try or play Speedgolf please express your interest here as this will help us build participation to bring Speedgolf to a wider geographical area. 
STOP PRESS….. Players are just in the process of building a Community Face Book page called Speedgolf Virtual Café – it is for players and those interested to learn more about Speedgolf by the players. Why not join the group to connect with other likeminded individuals.
Congratulations to Mikko Rantanen
the new World Speedgolf Champion!
In the Open Championship this must be the closest result in history with just 1 second separating Finland's Mikko Rantanen and New Zealand's Jamie Reid who was runner up.  Britain's Chris Benians  was placed 3rd. Known fondly as 'The Flying Finn' Mikko shot an impressive 1 under PAR to seal the victory. Jamie Reid shot 7 more strokes but did so in just 43 minutes and 9 seconds and becasue Speedgolf combines strokes and time this gave the incredibily tight margin. Pace vs Accuracy is what makes Speedgolf so intruiging!  Interestingly there were 5 nations represented in the Top 10.
In the Women's Championship it was  Lauren Cupp who took the Women's Title. Check out our Blog for more details
Congratulations to the winners of this year's
  British Open Speedgolf Championships!
 In the Men's Championship event it was an intense battle for the title, the margin between the top three was very tight but Chris Benians did enough to defend his 2017 title and seal the victory;  he shot a round of 80 in just over 43 minutes giving him a Speedgolf Score of 123:21.  Australia's James McMaster was runner up edging out George Boxall to 3rd place. In the Women's Championship New Zealand's Liz McKinnon put in a personal best to take the Women's Title. She shot a staggering 76 off the Red Tees in just over 50 minutes, her Speedgolf Score was 126:41. French sensation Mariette Hilborne was runner up.
Read our Blog about the event
Also check out this news report from EuroNews
http://www.euronews.com/2018/09/10/speedgolf-accelerating-the-long-walk-spoiled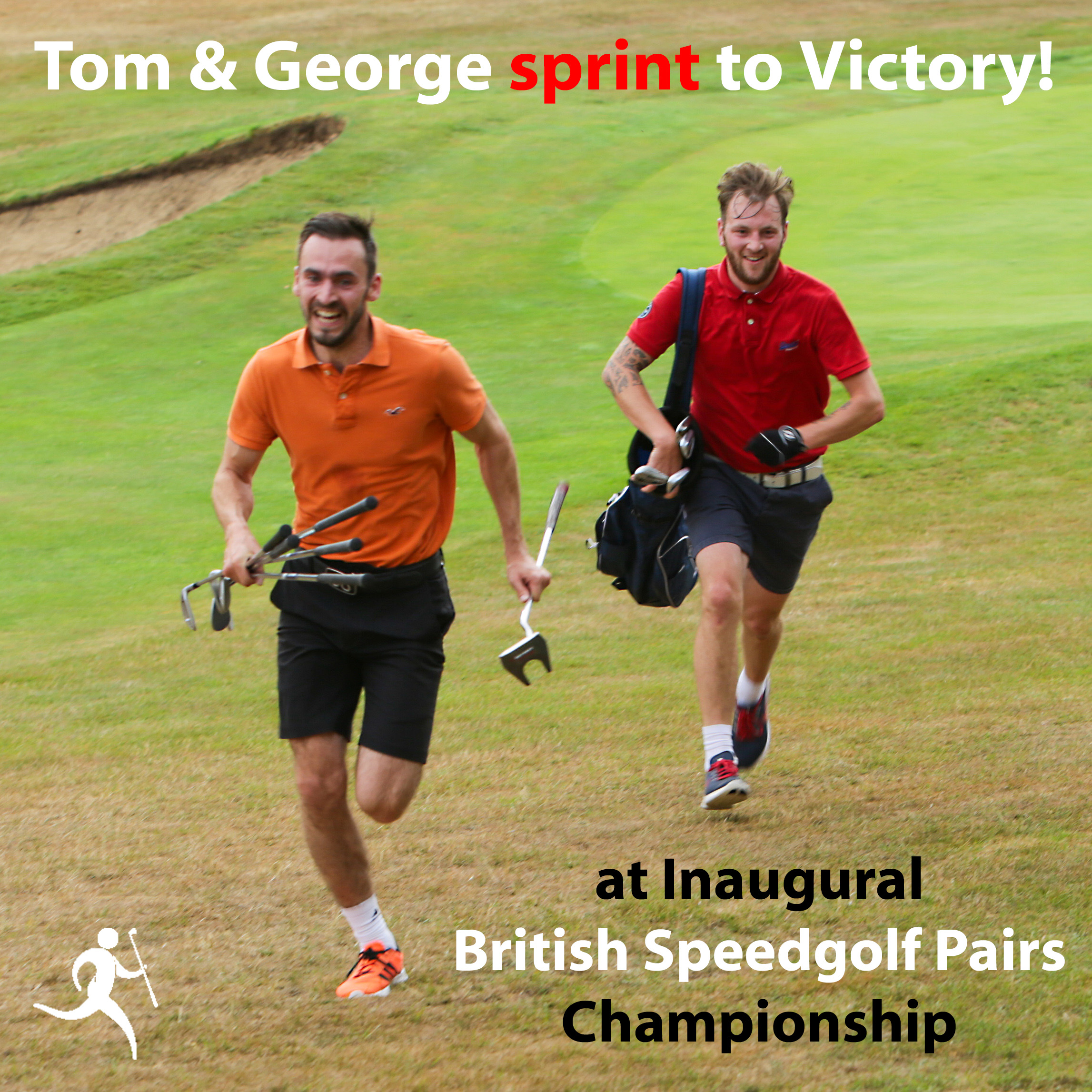 British Speedgolf Pairs Championship George Boxall and Tom Roberts win Inaugural British Speedgolf Pairs Championship!
In very warm, humid conditions George and Tom completed their 18 holes in just over 41 minutes! Their Speedgolf score was 122:06. Not far behind was Chris and Jamie who took the best golf stroke score of the day shooting 79 in just shy of 48 minutes. The fast course played havoc with the short game but all who competed should feel very proud of their achievements.
Want to know who is ranked the Top Speedgolfers in the World?
The 2018 Speedgolf Power Rankings are out! We are thrilled to see success for British Players, George Boxall and Chris Benians in the top 10 men and Lizzie Taylor, Emma Morgan and Mariette Hilborne making the women's Top 10! Find out more about the rankings and listen to the podcasts!
What a way to start 2018 – It's Official – Speedgolfer Steve Jeffs Guinness World Record!
The fastest hole of golf by an individual was achieved by Steve Jeffs (UK) at Tiverton Golf Course, in Tiverton, UK, on 25 August 2017. Take at look at Guinness World Record News piece or go straight to the official record page also read this great article by CNN
Huge success for 'Speedy George' at Speedgolf USA Championships!
George Boxall stuns global Speedgolf community as he claims Runner Up in Speedgolf USA Championships in Houston! At the stunning Golf Club of Houston, George led the impressive Men's International field after his gruelling 18 hole Speedgolf round (10K run!) and was squeezed into 2nd position in a tense  9 hole playoff, giving US Mack McClain the title  Read more on our BLOG! Before the next World Speedgolf Rankings are published, here are the results summary for the best in the World at present who are in the mix Mens Ranking sheet 
If you've an interesting Speedgolf story please let us know, we'd love to share your contribution.
British Speedgolf Interest
Get into Golf with Golf Express