Accelerate your game
Speedgolf is FAST, promotes FITNESS but most of all is FUN!               
Be sure to subscribe below for more news of the 2023 championship
A giant leap for Speedgolf!
DP World and Luke Willett Team Up to Set New Guinness World Record for 'Fastest 9-Hole Round of Golf'
Luke's record-breaking performance took place on the Fire Course at Jumeirah Golf Estates in Dubai, in the run-up to the DP World Tour Championship that gets underway on Thursday. Using just a 3 wood, 6 iron and pitching wedge, in an astounding display of athleticism his official record-breaking achievement was 20 minutes and 12 seconds! What makes this extraordinary in speedgolf terms is that the challenge was made vastly more difficult at the hottest part of the day in sweltering, energy-sapping 34-degree Dubai heat!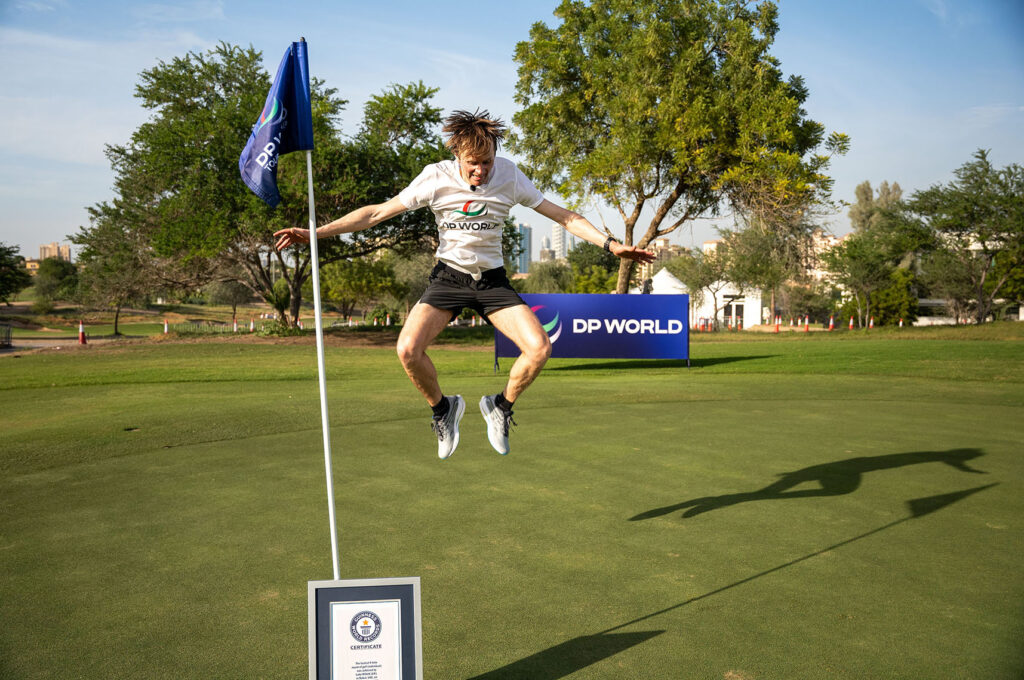 We are thrilled that our reigning 2023 British Open Speedgolf Champion continues to push the boundaries in our sport and has added a Guinness World Record to his already impressive portfolio of achievements.
DP World thrive on efficiency and excellence, and Luke's record-breaking speedgolf performance perfectly aligns with their ethos. Congratulations to Luke and all the team at DP World who made this possible.
Sky Breakfast News
– with Anna Jones and Jacquie Beltrao
Interview with PGA Pro Luke Willett about his new Guinness World Record for 9 holes.
Recorded on the Fire Course at Jumeirah Golf Estates in Dubai, just ahead of the DP World Tour Championship
Credit: Sky News Breakfast/DP World
2023 British Open Speedgolf Championships
The 2023 British Open Speedgolf Championships at the splendid Sunningdale Heath Golf Club, near Ascot was won by PGA Pro Luke Willett. He won the championship in style shooting just 25 minutes, 39 seconds . The Women's title went to Lauren Cupp, her first outing at the British Championships and she has certainly set a new pace! She shot 68 in 40 minutes and 5 seconds!  See below all our 2023 Champions, there are so many inspiring stories coming out of this years event, so much more to share! In the meantime see the full results 
What is Speedgolf?
Golf Re-Imagined! Speedgolf is a unique and challenging sport that combines the elements of running and golf. It involves completing a golf course in the lowest number of shots possible while also finishing the round as quickly as possible, while also trying to achieve a low score.
Players are allowed to run between shots and must carry a limited set of clubs, typically three or four, to keep the weight manageable while running. In Speedgolf, time is a significant factor, and players are often seen running across the course to make their shots quickly. The final score in speedgolf is a combination of the time taken to complete the course and the number of strokes taken to play the round. The winner is the player with the lowest combined score.
Skills required
To play speedgolf, players need to have a combination of physical fitness and golfing skills. They must be able to run or jog while carrying their golf clubs, which requires cardiovascular endurance and strength in the legs and upper body. In addition, they must possess the golfing skills required to hit the ball accurately and efficiently, as well as make strategic decisions on the course. Speedgolfers need to be able to quickly read and analyse the terrain, adjust their shots to varying conditions, and make quick decisions on which club to use. Finally, they must also have mental toughness and focus to maintain their performance at a high level throughout the entire round.
Watch Man vs Machine Challenge – can a speedgolfer beat another PGA Pro using a buggy????
18 holes: PGA Speedgolfer on foot vs PGA Golfer in a buggy! Who will achieve the best Speedgolf Score which is the total Golf Shots plus time? Watch now
2022 British Speedgolf Championships
Congratulations to Rob Hogan from Ireland who took the  Open title! Kathy Leppard took top honours for the women. There are so many more amazing performances so more will be published later this week.
Having already secured victory at the Irish Open, PGA Pro Rob Hogan secured the win with two superb performances (79 in 35:37 and 75 in 34:47, the latter giving him a Speedgolf Score of 109:47, breaking the elusive Speedgolf score of 110 rarely seen in National tournaments! Rob went on to win the French and US Speedgolf championships, giving him 4 national titles which makes him a strong favourite for the World Speedgolf title bid in November.
The 2022 British Open was extraordinary for another reason, 5 players posted sub 40-minute 18-hole rounds on the PAR 72 course of 6100 yards! The fastest was set by a runner, Jamie Taylor-Caldwell whose second round was completed in a staggering 29 minutes and 32 seconds! As well as Rob and Jamie, Luke Willett, Luke Bone and George Boxall all completed rounds in 38 minutes 16 seconds or less.
Full results here
Reuters – 'Watch'
Rob Hogan wins the British Open Speedgolf Championship
#Speedgolf Be Inspired 337K views and climbing!
Must watch from

The Open

– thanks to

The R&A

for recognising Luke Willett – an extraordinary talent and such an inspiration for golf!
Check out our Video Vault to watch action from the last Speedgolf World Championships, the team from Golf Monthly trying Speedgolf, a World Speedgolf first as Scott Richardson becomes the 1st Amputee to compete in a championship, NBC's Today Show piece from across the pond on Lauren Cupp plus and plenty more to inspire you!
GOLF REIMAGINED!
Speedgolf is a fun, fast, and fitness-oriented alternative to traditional golf. It's about one sport that unites two of the largest lifestyle communities in the world, Golf and Running! It also satisfies a myriad of today's modern challenges to a healthy and active lifestyle.
Speedgolfers  think about Pace rather than Speed – finding an optimum pace for their fitness and endurance whilst maintaining their golf shot accuracy. A Speedgolf Score is a combination of Golf Strokes plus the Time to complete the round.
Whether taking a brisk walk, power walk or progressing to a jog, some or all of the time, Speedgolfers should also aim to save time by eliminating practice swings and other time consuming rituals that lead many to over-think their game. In doing so, contrary to what one might expect, many Speedgolfers actually find that their golf game improves!
For a full round at 'speed' Speedgolfers need a clear course, which is the main reason that those who practice regularly play at 1st tee. Aside from fewer clubs and suitable attire there are very few rule changes and NOTHING a club has to put in place in terms of equipment. If you are interested to try or play Speedgolf please subscribe to our Newsletter by completing our Mail Chimp subscriber form below as this will help us build interest to help bring Speedgolf to a wider geographical area.
British Speedgolf is proud of its innovation credentials. Speedgolf is gaining momentum in the UK and across the world. Why not join the Speedgolf movement.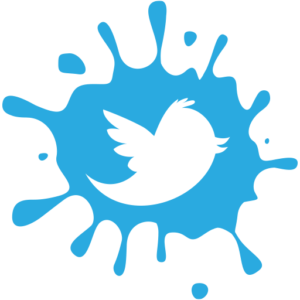 Check out our tweets and help us make a splash on Twitter. Follow the links below to our other social media platforms
Explore the new Speedgolf Video Vault where we will showcase Speedgolf media from the UK and  across the globe!