Accelerate your game
Speedgolf is FAST, promotes FITNESS but most of all is FUN!
No British Speedgolf Open or Pairs events in 2020!
Sadly it has not been possible to host our annual championships this year due to the uncertainty of Covid-19 restrictions. We are not alone as the French Speedgolf Open was also cancelled along with the World Championships in Japan.
We hope the events can resume again in 2021!
Congratulations to Jamie Reid who wins the  2019 British Open Speedgolf Championship! It was a close call between the top three at the fabulous Foxhills, near Chertsey, Surrey on  their challenging championship Longcross Course.
2nd place went to the UK's Chris Benians while Mikko Rantanen came 3rd. More to follow soon!
Great to see some news exposure, check out this report from Dutch Broadcaster RTL
Congratulations to George Boxall for winning the South West Speedgolf Championships at Fingle Glen Golf Hotel in Devon on Sunday 29 September.
After the initial 9 holes of Speedgolf, George made the cut to a playoff and completed another 9 holes in just 17 minutes and 47 seconds with just 3 shots over PAR! This secured him the win after playing 18 holes in total! 
Well done to organiser Steve Jeffs a former world record holder of golf's fastest hole, read this blog post,  the South West event was characterised by a fun informal atmosphere!
 Steve Jeffs is already making plans for the event to return in 2020 
Congratulations to George Boxall and Tom Roberts for winning the 2019 British Speedgolf Pairs Championship, hosted at Sweetwoods Park Golf Club on the Kent/Sussex border. Head to the Video Vault to see some action from the event. Read our latest Blog for results, photo gallery and Speedgolf fun!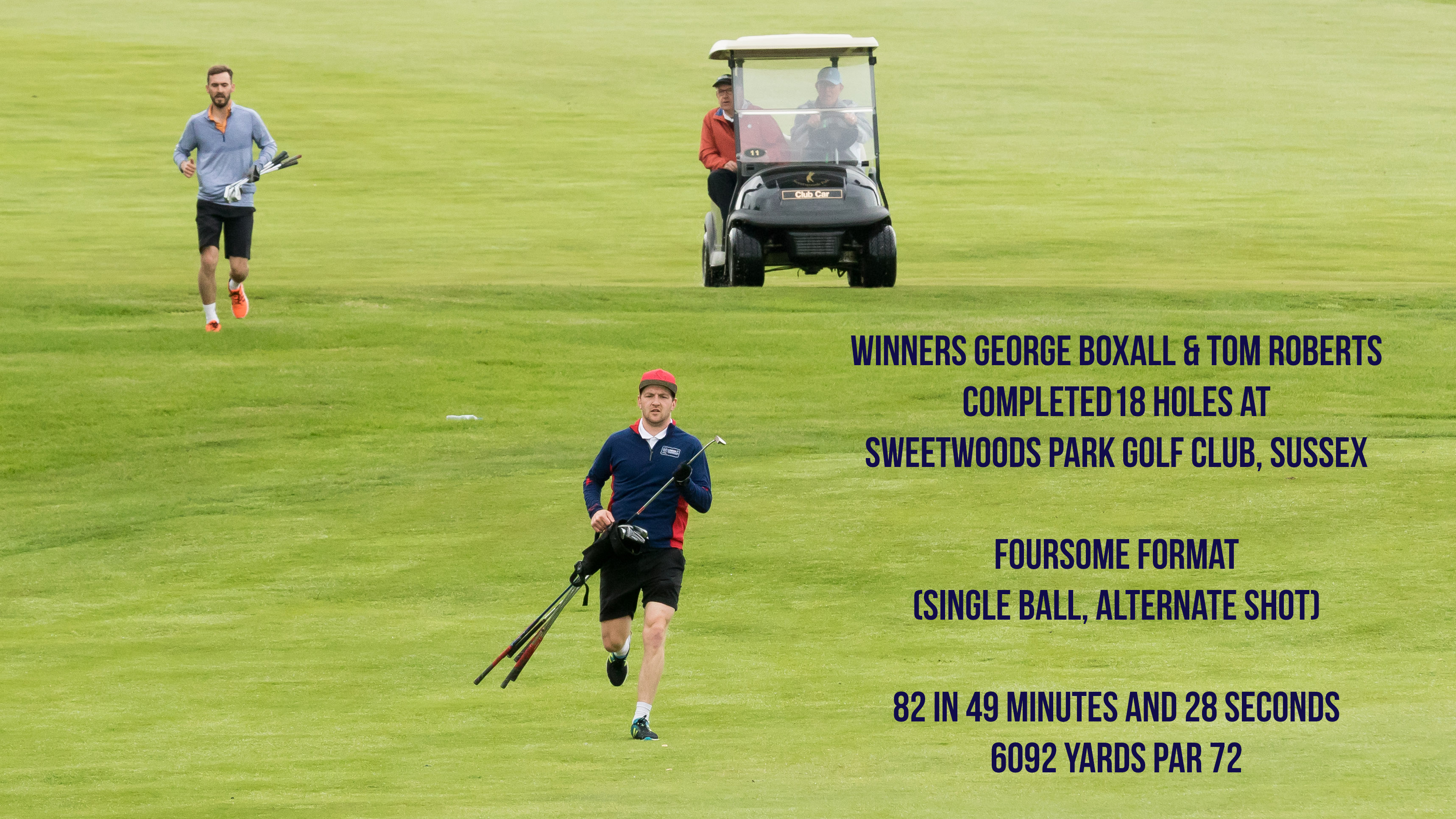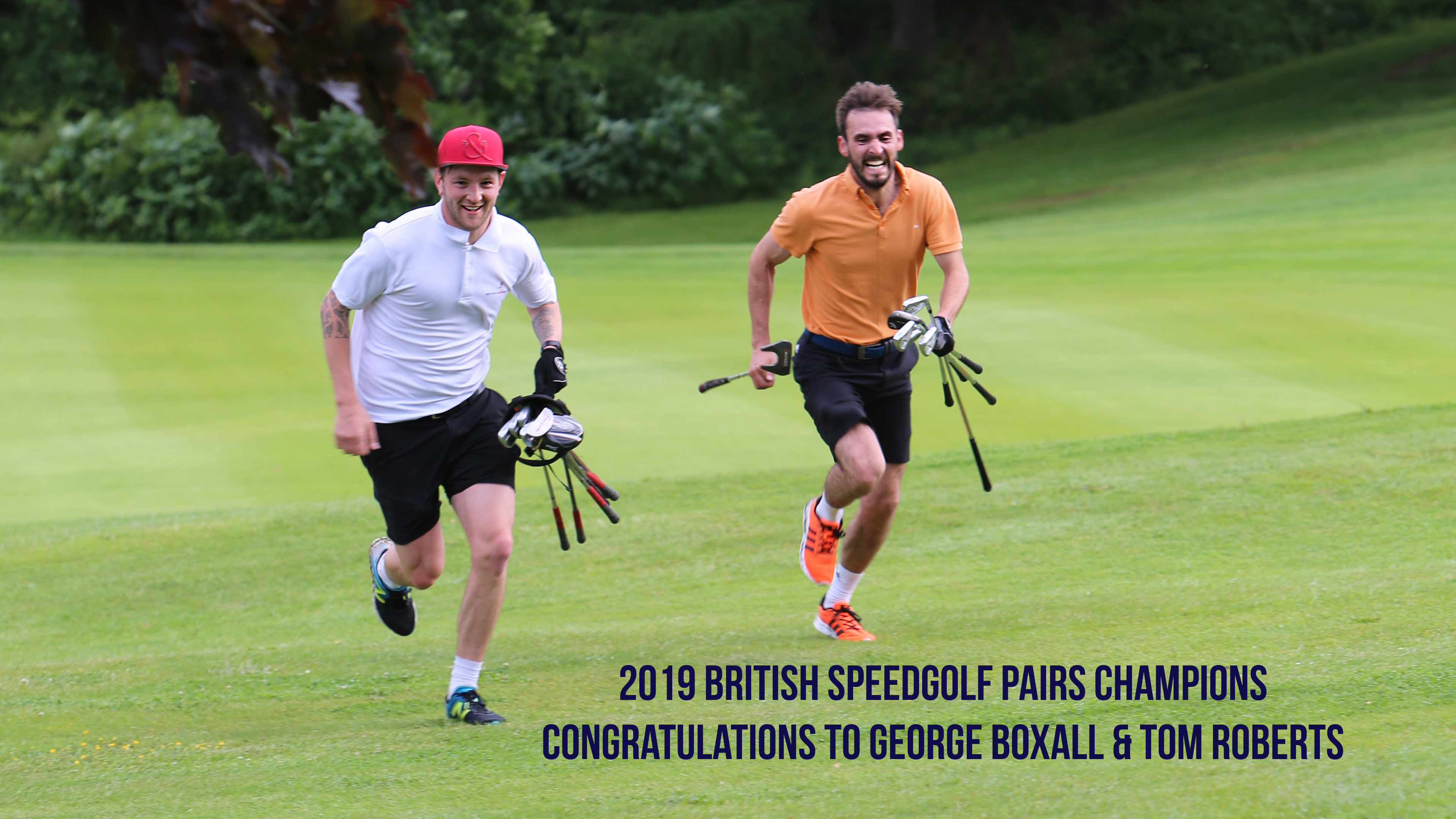 We were pleased to support #GolfHealthWeek in April, a campaign first, to promote the health benefits of golf for all ages, ability and FITNESS. The campaign was co-ordinated by the R&A and is also  backed by all the major golfing bodies including England Golf, The European Golf and many more. PGA Pros including  Annika Sornenstam, Brooke Henderson, Padraig Harrington and Zach Johnson, who are ambassadors for the Golf and Health Project also helped to spread the word!
Check out our Facebook, Instagram and Twitter for some inspiration!  Speedgolf is inclusive and fun, be it one hole or a full 18, run, powerwalk or shuffle!
GOLF REIMAGINED!
Speedgolf is a fun, fast, and fitness-oriented alternative to traditional golf.
It's about one sport that unites two of the largest lifestyle communities in the world, Golf and Running! It also satisfies a myriad of today's modern challenges to a healthy and active lifestyle.
Speedgolf is essentially a faster more athletic format of golf. Speedgolfers who play competitively, do jog between shots but even those at the very top of the sport rarely sprint; Speedgolfers  think about Pace rather than Speed – finding an optimum pace for their fitness and endurance whilst maintaining their golf shot accuracy.
A Speedgolf Score is a combination of Golf Strokes plus the Time to complete the round.  Whether taking a brisk walk, power walk or progressing to a jog, some or all of the time, Speedgolfers should also aim to save time by eliminating practice swings and other time consuming rituals that lead many to over-think their game. In doing so, contrary to what one might expect, many Speedgolfers actually find that their golf game improves!
For a full round at 'speed' Speedgolfers need a clear course, which is the main reason that those who practice regularly play at 1st tee. Aside from fewer clubs and suitable attire there are very few rule changes and NOTHING a club has to put in place in terms of equipment. If you are interested to try or play Speedgolf please express your interest here as this will help us build participation to bring Speedgolf to a wider geographical area. 
STOP PRESS….. Players are just in the process of building a Community Face Book page called Speedgolf Virtual Café – it is for players and those interested to learn more about Speedgolf by the players. Why not join the group to connect with other likeminded individuals.
Explore our new Speedgolf Video Vault. Drop by often as we will add and change the Speedgolf videos featured plus a few gems from the past.
British Speedgolf is proud of its innovation credentials. Speedgolf is gaining momentum in the UK and across the world. Why not join the Speedgolf movement.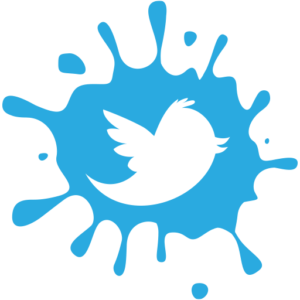 Check out our tweets and help us make a splash on Twitter. Follow the links below to our other social media platforms
Explore the new Speedgolf Video Vault where we will showcase Speedgolf media from the UK and  across the globe!