Accelerate your game
Speedgolf is FAST, promotes FITNESS but most of all is FUN!
Congratulations to George Boxall and Tom Roberts who narrowly defended their title at the
2019 British Speedgolf Pairs Championships. With sweaters off on the back nine, George andTom had to dig deep, but with real grit and determination they sealed their victory.  Head to the Video Vault to see some action from the event. Read our latest Blog for results, photo gallery and Speedgolf fun!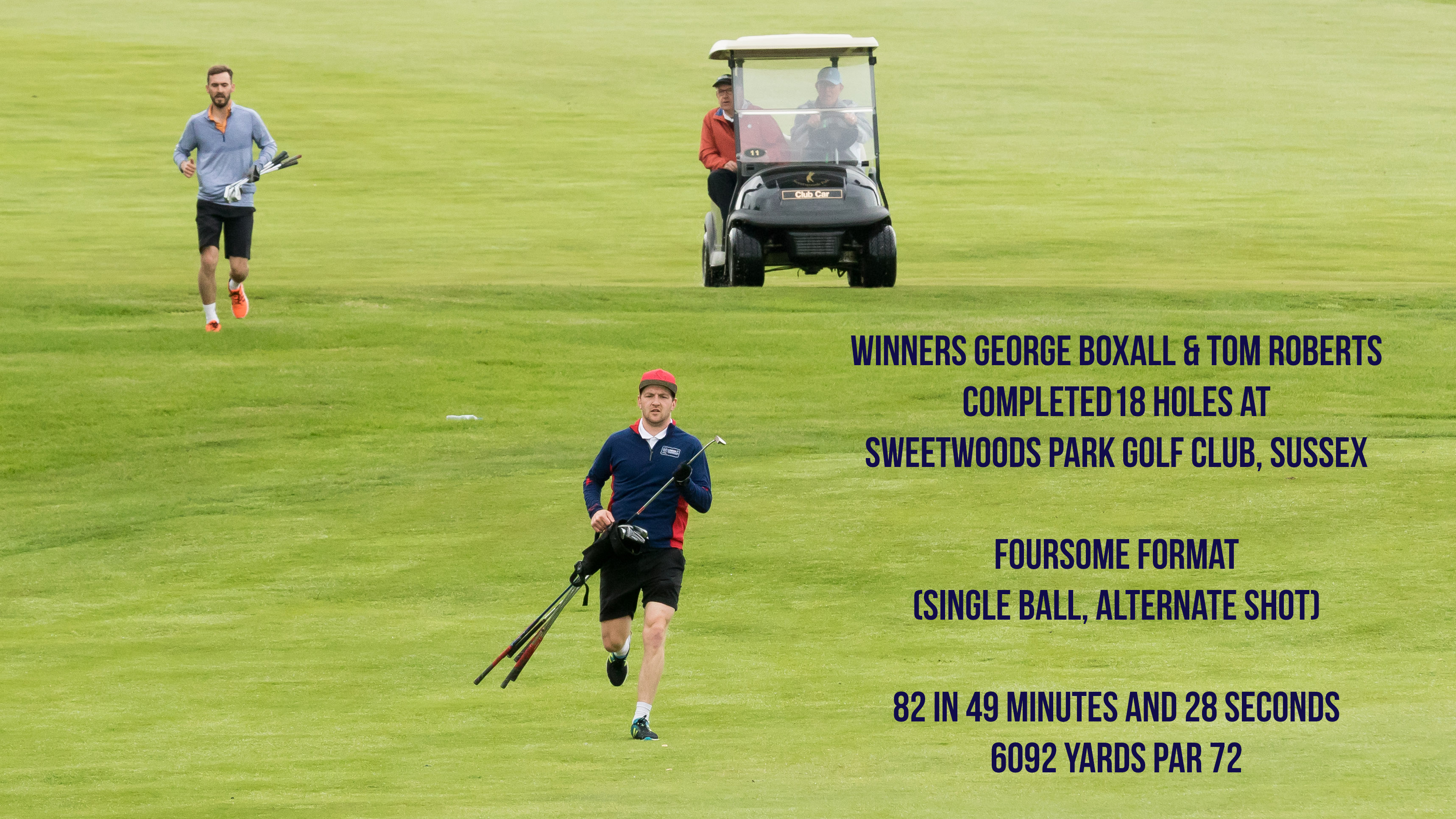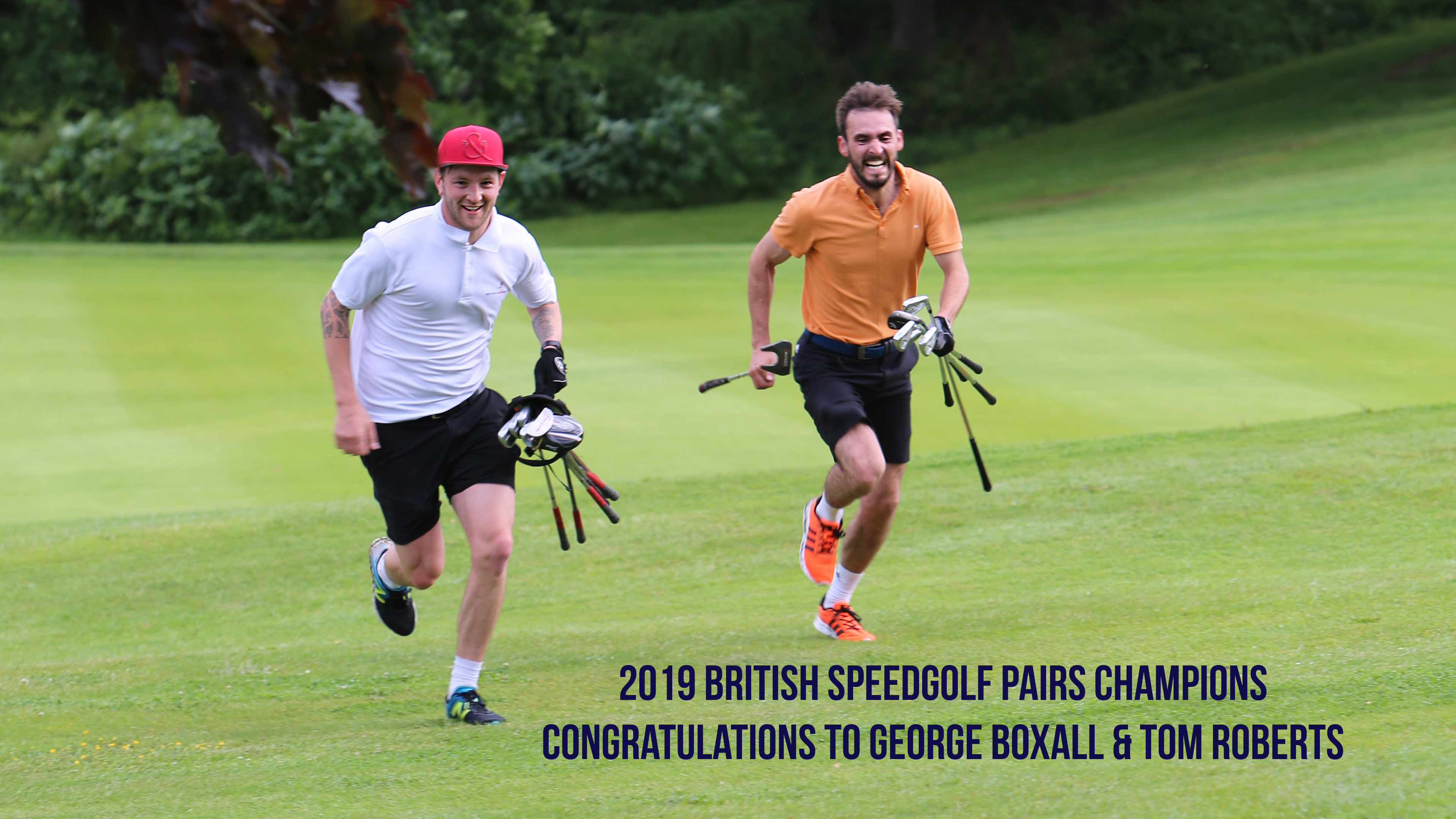 2019 British Open Speedgolf Championships
News Alert

: Today's Golfer Magazine – Please note misprint in article in this month's magazine,

the correct date is 28 July!
2019 British Open Speedgolf Championships – 28 July at Foxhills, Surrey.
Foxhills is a magnificent Golf resort offering some of the best golf in Surrey. The British Open Speedgolf Championships will be played on the prestigious Longross Championship Course, widely considered the best tree lined course in the county and ranked one of the top 100 golf courses in England. It has also been home to the 2017 PGA Cup so will be a fantastic venue for The British Open Speedgolf Championships.
This is an individual event and one of the most unique  tournaments in the British Golfing Calendar, Registration is £85.00 secure your place now
We were pleased to support
#GolfHealthWeek
in April, a campaign first, to promote the health benefits of golf for all ages, ability and FITNESS. The campaign was co-ordinated by the
R&A
and is also  backed by all the major golfing bodies including England Golf, The European Golf and many more. PGA Pros including 
Annika Sornenstam, Brooke Henderson, Padraig Harrington and Zach Johnson
, who are ambassadors for the Golf and Health Project also helped to spread the word!
Check out our Facebook, Instagram and Twitter for some inspiration!  Speedgolf is inclusive and fun, be it one hole or a full 18, run, powerwalk or shuffle!
GOLF REIMAGINED!
Speedgolf is a fun, fast, and fitness-oriented alternative to traditional golf.
It's about one sport that unites two of the largest lifestyle communities in the world, Golf and Running! It also satisfies a myriad of today's modern challenges to a healthy and active lifestyle.
Speedgolf is essentially a faster more athletic format of golf. Speedgolfers who play competitively, do jog between shots but even those at the very top of the sport rarely sprint; Speedgolfers  think about Pace rather than Speed – finding an optimum pace for their fitness and endurance whilst maintaining their golf shot accuracy.
A Speedgolf Score is a combination of Golf Strokes plus the Time to complete the round.  Whether taking a brisk walk, power walk or progressing to a jog, some or all of the time, Speedgolfers should also aim to save time by eliminating practice swings and other time consuming rituals that lead many to over-think their game. In doing so, contrary to what one might expect, many Speedgolfers actually find that their golf game improves!
For a full round at 'speed' Speedgolfers need a clear course, which is the main reason that those who practice regularly play at 1st tee. Aside from fewer clubs and suitable attire there are very few rule changes and NOTHING a club has to put in place in terms of equipment. If you are interested to try or play Speedgolf please express your interest here as this will help us build participation to bring Speedgolf to a wider geographical area. 
STOP PRESS….. Players are just in the process of building a Community Face Book page called Speedgolf Virtual Café – it is for players and those interested to learn more about Speedgolf by the players. Why not join the group to connect with other likeminded individuals.
Explore our new Speedgolf Video Vault. Drop by often as we will add and change the Speedgolf videos featured plus a few gems from the past.
British Speedgolf is proud of its innovation credentials. Speedgolf is gaining momentum in the UK and across the world. Why not join the Speedgolf movement.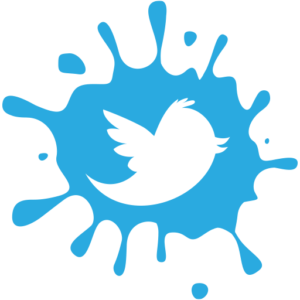 Check out our tweets and help us make a splash on Twitter. Follow the links below to our other social media platforms
Explore the new Speedgolf Video Vault where we will showcase Speedgolf media from the UK and  across the globe!
British Speedgolf Interest
Get into Golf with Golf Express