Following some tremendous work by a team chaired by Roger Hawkes Executive Director of Golf and Health, there is now empirical data that firmly supports that golf is good for you and can increase both physical and mental wellbeing.
The First International Congress on Golf & Health

The First International Congress on #GolfandHealth, Sponsored by The R&A saw global leaders in public health and sport backing golf in the race to tackle physical inactivity!Find out how the World Health Organization (WHO), the International Society for Physical Activity & Health (ISPAH) and governments have internationally recognised golf as being a health-enhancing activity at http://bit.ly/2ErrUCp ? #ISPAH2018

Posted by Golf & Health on Monday, 22 October 2018
As the UK, as well as many other parts of the world, look to tackle the increasing trends of inactivity and obesity this research firmly links golf with health.
British Speedgolf was delighted to be invited to the London Declaration of Golf and Health hosted by the R&A at the Palace of Westminster (Houses of Parliament) in London.  A global consensus amongst leaders in public health was presented along with public policy that backs golf in the race to tackle physical inactivity and the prevention of a range of non-communicable disease including heart disease, stroke, diabetes and cancer of the breast and colon. The event included a presentation and questions taken by a very distinguished panel including Martin Slumbers R&A Chief Executive, Dr Andrew Murray from the Golf & Health Project,  Charlie Foster President of the ISPAH, Annika Sorenstam one of the best female golfers in history, Fiona Bull from WHO, and Steve Brine, UK Minister for Public Health.
A further Golf and Health Scientific Meeting was held the following day at High Elms GC in Kent where researchers from Asia, Australia, Europe and the USA discussed their respective projects which included some inspiring work around how golf improves strength and balance as well as evidence about ways the sport can help those living with long term conditions such as Parkinson's and Dementia. There was also some discussion around the future direction of research on golf and health and it is here that we think Speedgolf can make a positive contribution as it adds a new fitness dimension to the golf and health story. We have plenty of anecdotal evidence that Speedgolf increases fitness and a sense of wellbeing and for some has led to significant weight loss, but we lack empirical evidence to support this. We hope that those funding future research will recognise the benefit of adding this new fitness dimension of golf, through Speedgolf a potent reason for prompting some research and developing this complimentary golf format.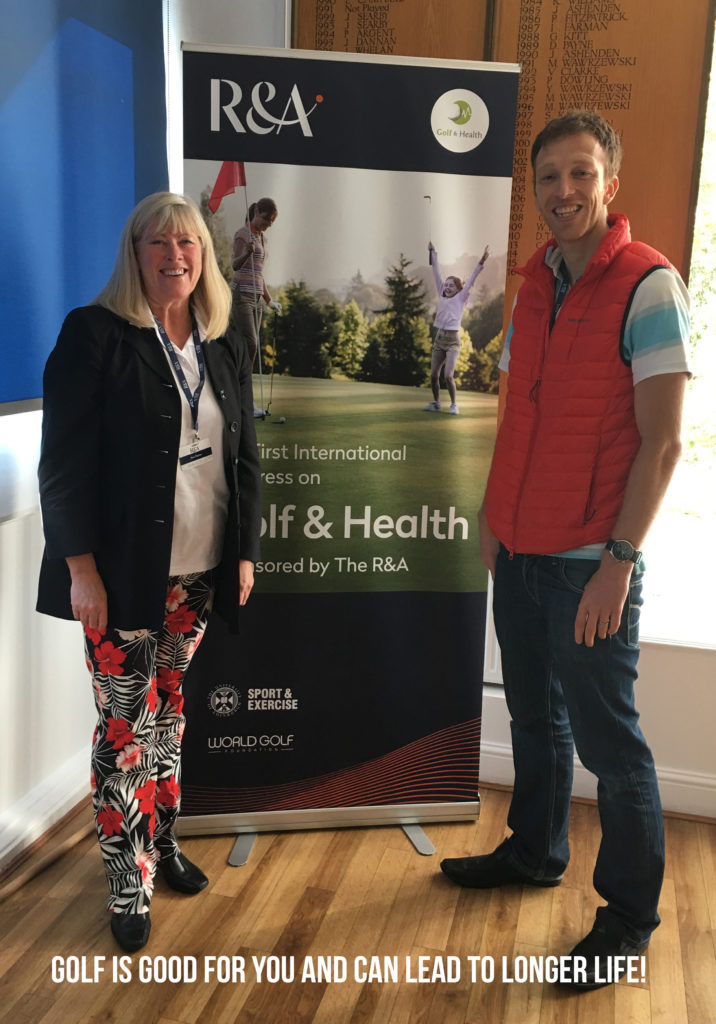 If you are interested in finding out more about the broad range of health benefits golf can deliver, Dr Andrew Murray has produced some engaging Infographics and resources which can be downloaded to share.  As a golfer, marathon runner and Scottish doctor who is also the Sports and Exercise Medicine doctor for the European Tour Andrew is passionate about how golf, however you play it, can deliver real health benefits. Having competed in the Speedgolf Pairs category at the 2017 British Speedgolf Open, Andrew has also enjoyed Speedgolf and is an advocate of the sport.