Fabulous Foxhills was the venue for the British Open Speedgolf Championships taking the event to Surrey for the first time. Thanks to David Wyborn and his team the championship Longcross course was in tip top condition.
This stunning course is demanding for regular golfers with the pro shop confirming it is difficult for scratch players to shoot PAR on this course. The International field included players from New Zealand, USA, Finland, France, Germany and the UK. Normally an average round here can take over four hours, but today things were at a blistering pace with an incredible mix of athleticism and golfing ability on show with five players finishing 18 holes in under 50 minutes. Scorers followed each player in a buggy to record strokes and any penalties. Players had to contend with the added pressure of a running Start and Finish which characterises this British Speedgolf event.
Jamie Reid took the championship title with a superior pace over his rivals; he shot a nine-over-par 81 in just 40 minutes and 57 seconds to post his Speedgolf Score of 121.57. Astonishingly, he did so without using a conventional putter or golf bag to save weight and completed his round with just three clubs: a four-iron, seven-iron and pitching wedge.
Defending champion Chris Benians, meanwhile, shot an outstanding two-over-par 74 in just under 50 minutes (123.59) for second place ahead of reigning world champion, Mikko Rantanen from Finland, who also shot 74 in 51.07.
In other categories Kathy Leppard won the women's division, whilst newcomer Chris Fenn scooped the amateur title and also took the senior's trophy. In many Speedgolf tournaments around the world, those who take the plunge to compete for the first time find themselves at the top of the leaderboard.
Other notable performances were from George Boxall who completed his 18 holes in just shy of 43 minutes and PGA Pro Luke Melling who finished in under 50 minutes in his first Speedgolf tournament; very impressive. Whilst the running order always reflects the anticipated fastest out first, there is always the chance to 'hunt down' the player ahead and this year a couple of players managed to do so. Heading up the Style stakes was Luke Willett, sporting his Bunker Mentality kit he made sure he would make an impression!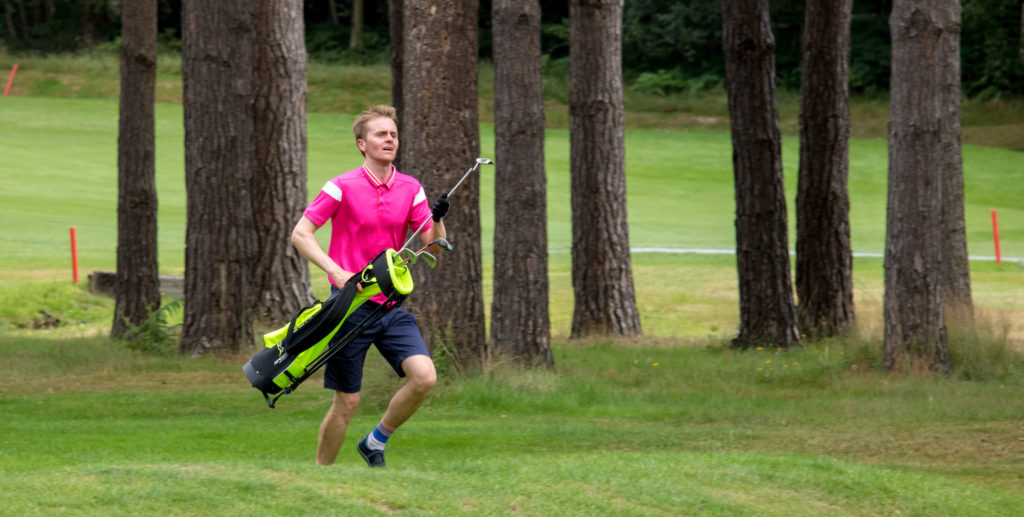 HUTC captured the action with footage from of the tournament reaching news bulletins across the globe even airing on 9 News in Sydney!
Check out our video vault for a short cut of the action from the championship.
Also on hand were photographers Mike and David, Enjoy our photo slideshow and get inspired!
Hard at work behind the scenes were Foxhills event organiser Jazzmin Gallimore-Cox and all our volunteer scorers, it was a challenge for them keeping pace in buggies alongside some of the players! A Speedgolf score combines the total shots taken (plus any penalty shots) added to the time to complete the entire 18 hole round and George Potts did a fantastic job co-ordinating the results.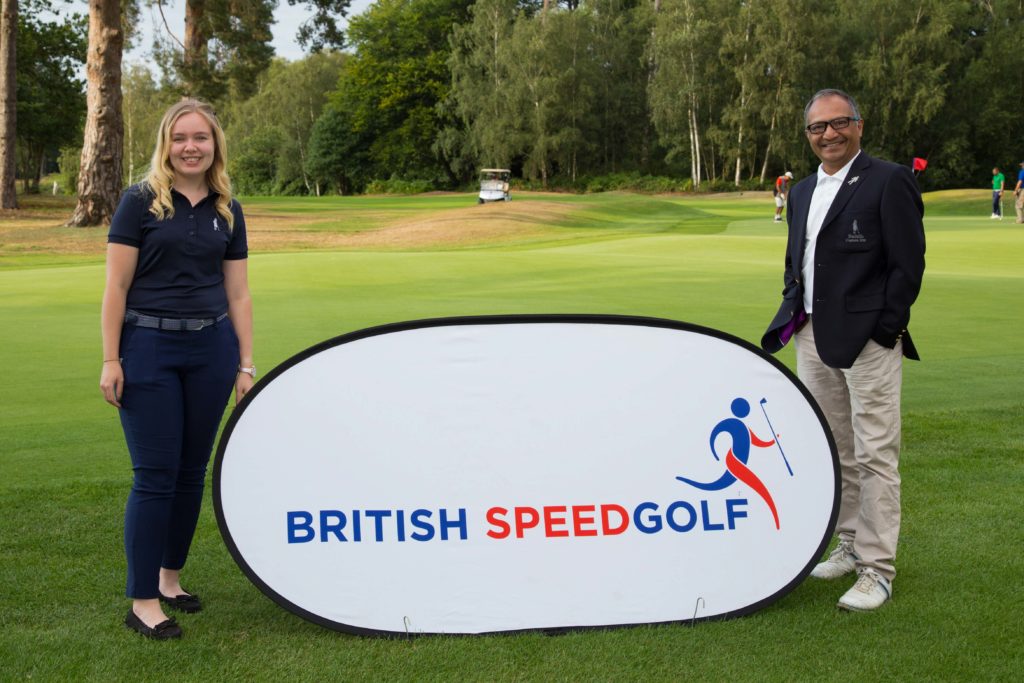 Vice President Dee Shah was on hand to present the trophies and awards and he witnessed a full round as scorer for Steve Jeffs.
One of the most remarkable things about this event was the superb sportsmanship on show as well as the camaraderie amongst players, where seasoned Speedgolfers share their knowledge with new players. This 'Speedgolf spirit' exudes from our hard working committee of Chris, George, Luke and Steve who were essential in delivering another successful British Speedgolf Open.
Chris Fitt, director of golf and leisure at Foxhills, summed up saying: "It was a pleasure to host the event and congratulations to Jamie and to everyone else who took part. These golfers are amazing athletes and it's a worthy sport in its own right."