The Golf Club of Houston played host to the Inaugural Speedgolf USA Championships. Representing British Speedgolf were the irrepressible Mariette Hilborne and George Boxall.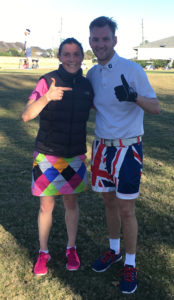 In the Men's Championship was an impressive US field that included World Ranked Speedgolf No1 Wes Cupp, reigning World Speedgolf Champion Jamie Young, Former World Speedgolf Champion Eric Crum and 2017 New York Open winner Mack McClain. In addition, Japan's national champion Joe Matsui and New Zealand's champion Steve Holliday competed. The stage was set for an almighty showdown with a course that would mean Speedgolfers would traverse some 10K from the 1st to the 18th Green.
After 18 gruelling holes, British Amateur Golfer George Boxall led the championship with a stunning round of 80 strokes in just 51:53 minutes giving him a Speedgolf score of 131:53. 'Speedy George' sure looked cool in those Union Jack Loudmouth shorts!
Organiser Scott Dawley was keen  to try something new at this Inaugural Speedgolf USA event, so in addition to the 18 holes, the top 4 men also completed a 9 hole playoff. In a departure from regular Speedgolf, each hole was played individually, Sprintgolf style, and the cumulative Speedgolf score from each of the holes was added to the 18 hole score. USA's Mack McClain took advantage and after the tense playoff managed to snatch the glory of the championship title producing the lowest Speedgolf Score over the 27 holes. Congratulations Mack, he is a fantastic athlete and demonstrates that you really can combine golf precision with an extremely fast pace!
Enjoy watching the hightlights from this thrilling 9 hole playoff!
Hamilton men's and women's golf coach Lauren Cupp won the Women's Championship shooting 84 in 69 minutes, 29 seconds for a 153:36 total score.
It was an impossible challenge for our Mariette who boldly took on Golf professionals in her quest for Speedgolf Women's success. Mariette has seen her golf handicap tumble in 2017 from 25 last year to an impressive 16; with this progress she really is sure to be a challenger for title glory in the future.
We are so proud of George and Mariette who have firmly placed British Speedgolf as a force to be reckoned with on the Global Speedgolf stage!
In addition to the Men's and Women's event there was an amateur 18 and 9 hole event and a separate category for 50 plus showing that ability and age is no barrier to enjoy success in this sport. Full results can be seen here