World Record – Fastest 500 Yard PAR 5 Run
On 25th Aug 2017 at 6:20pm I managed to out run a previous record set for a 500 yard par 5 (1:52). Following months of sprint training, I was ready to attempt the record officially. 12 volunteers were on hand to meet the rigorous criteria Guinness requires for record verification. Despite the nerves and the pressure, I set to work ensuring everything was in place; two timers in a buggy, two witnesses, ball spotters, flag tender & baby sitter!
The warm up showed my nerves as I struggled with the tee shot, it's a tight drive from an elevated tee, however to meet the 500 Yard length the tee pegs were right at the back of the tee box which made the drive a little uncomfortable but was ready to go.
First record attempt, I hit what was an average drive – not too long and just left of the fairway but usable, I went off way too fast, overtaking the buggies and reaching the ball in 40 seconds, 5-but too quick, this led to a terrible contact on my second shot, a 3 wood from around 230 yards. My nightmares building up to the event were coming true! A discussion with my team of volunteers and a few stiff words from my wife Kelly, gave me the determination I needed to focus.A nervous rethink then Hit, Run, Repeat again.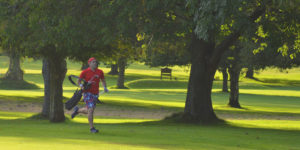 After several initial runs, the perfect conditions of no wind and favourable light would soon dissipate. Final Attempt – The drive was a beautiful long straight drive, I held back on the first sprint and took an extra breath, stood over the second shot, connected and hit a shot to the perfect position, just left of the fairway; sat up in the rough around 40 yards out.
Last chance to hit a decent pitch – I did! It landed in front of the green and rolled out to 5 feet past the pin. A simple uphill putt was left, centimetres from the hole, tap in. Done!
There was a moment of suspense, both the timers confirmed 1:50.6 ! (1 minute 50 seconds). Bewildered and relieved, I collapsed in a heap followed by a scrum of celebratory supporters! I now await ratification from Guinness World Records, which I am led to believe can take some time.I hope those watching have a think about Speedgolf and try it one day and maybe a few people who see the photos and videos online might do the same; it's a great sport , fantastic for fitness and a lot of FUN!
Thanks to Alistair Welsher, Jess Bradley, Vicky Hore, Joe Venton , Joe Pike, Dan Wood, Rob Hore, Lee Strawbridge, Mike Jeffs, Kelly Jeff and Wendy Jeffs plus Tiverton GC  supporters without whom, this would not have been possible.
Steve Jeffs